Men's and Women's clothing has been a key staple of the Flashback experience. Early on, garments from the 1930's and 1940's were the norm. As these items became rarer and fashion trends evolved, items from the 1950's, 1960's, and 1970's became the main stay of the vintage clothing inventory. Now, we have constant request for 1980's fashion, especially 80's prom dresses.
Flashback, The Vintage Department Store, provides Memphis with vintage clothing and accessories for men, women, and children. Items that are worn every day or for special occasions can be found in the form of vintage. Vintage is unique, helping the individual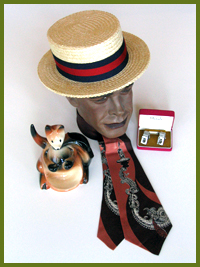 express himself or herself without conforming!
Men's fashions at Flashback are dated from the forties through the seventies. For men, items such as a Brook's Brothers boater hat provide an air of distinction as well as shade. A forties Salvador Dali tie is timeless neckwear. Wrap around cufflinks provide vintage bling! And, of course, no collection is complete without a kangaroo dresser valet as seen in Pulp Fiction.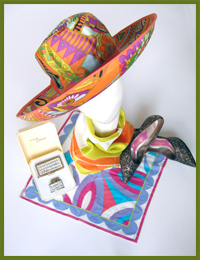 For women, items date from the twenties through the eighties. Mr. John silk hats in a 1960s print make a bold statement. A cotton Pucci pocket square and a Vera silk scarf add a splash of color. Copper glitter incrusted Schiaparelli spiked heeled, pointed toe shoes teamed with a rhinestone cigaret case and lighter are perfect for evening wear.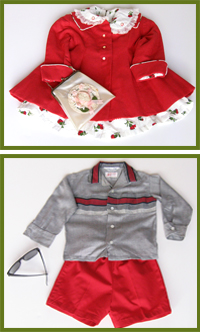 Children's vintage clothing is a fun distraction at Flashback. While hard to find, a few items find their way into the shop. A cotton rosebud print dress and matching coat, along with a clear plastic purse, show the fun that the very young can have with vintage. Fifties boy's cotton and silk shirt and shorts are a rare find. Children's shades make the outfit!